Previous analysis… https://analysis.tfxi.com/2021/12/20/triumphfx-cryptocurrency-update-january-february-march-2022/
Bitcoin (BTCUSD) – Daily & Weekly Charts – Upside momentum weakening? Possible indecision?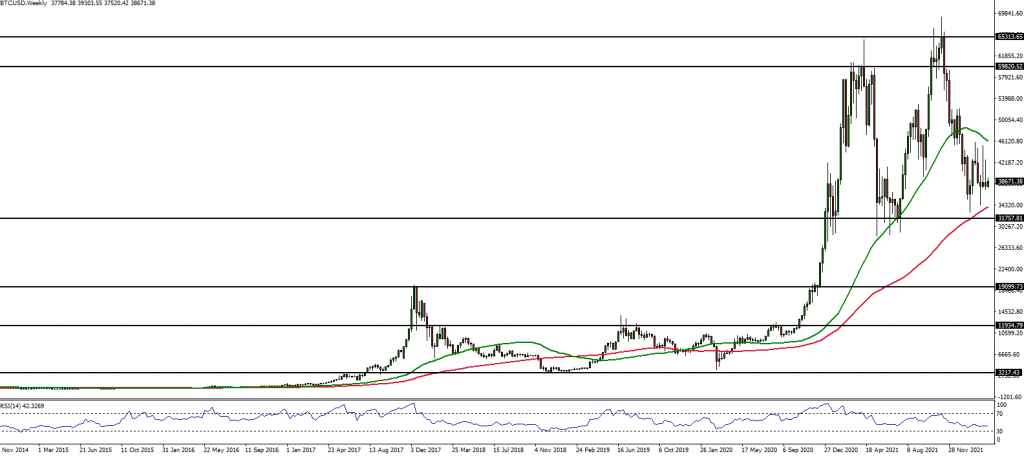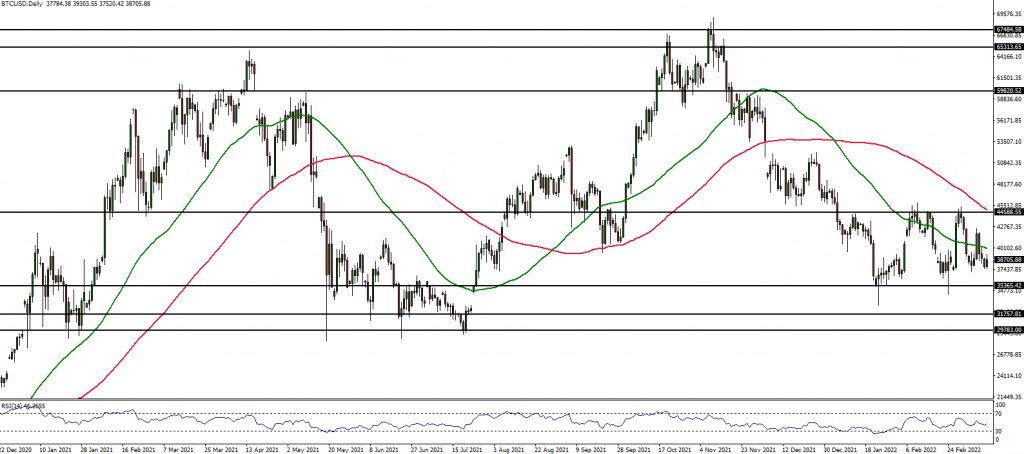 As suggested in our previous BTCUSD analysis, price has been finding support around the longer-term moving average on the weekly chart.
Bitcoin continues to uptrend on the weekly time-frame and is currently in a retrace move. The weekly moving averages are starting to tighten, signalling that upside momentum may be weakening. Price has retraced below the shorter-term moving average, which is the first time BTCUSD has been below the weekly 50 SMA in almost 2 years – adding confidence that the uptrend could becoming to end.
On the daily chart, price is looking indecisive and is currently ranging between 35350 and 44600. The moving averages are bearish and steady, suggesting that Bitcoin may attempt a bearish move lower.
Buying opportunities could exist around the longer-term moving average and around any of the horizontal levels at 35350, 31750, 29790, 19000 and 11950. A bullish move may be rejected or reverse around the daily moving averages, around the weekly shorter-term moving average and around the horizontal resistance levels at 44600, 59800, 65300 and 67500.
Ethereum (ETHUSD) – Daily Chart – Market indecision?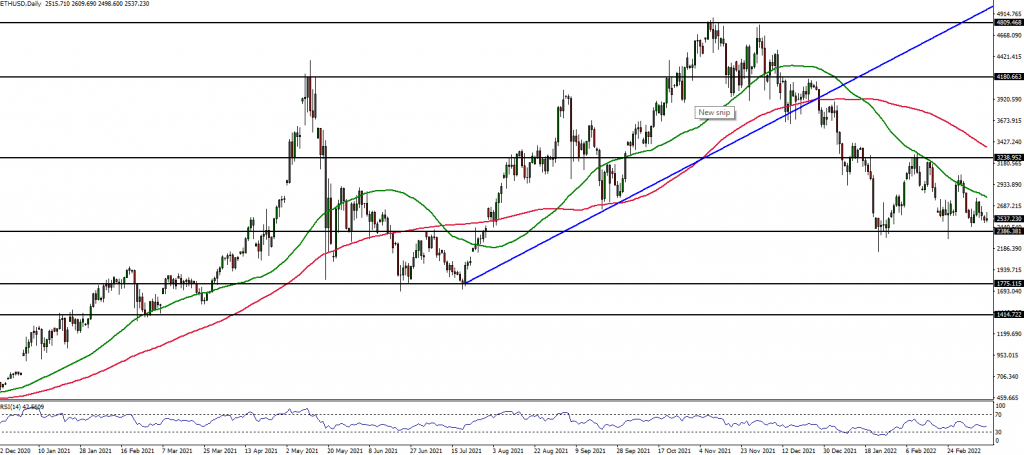 Ethereum has been bearish.
Price was up-trending but is now looking indecisive. Price action has formed a lower swing low and the moving averages are bearish, suggesting a move lower. ETHUSD is looking indecisive though, suggesting a potential range at 2385-3240.
Trading opportunities may exist around the support and resistance areas of the range and if Ether moves out of the range (break-out trade). A break to the downside could find support around 1775 and 1415. A break to the upside could find resistance around 4180 and 4810.
Litecoin (LTCUSD) – Daily & Weekly Charts – Clear indecision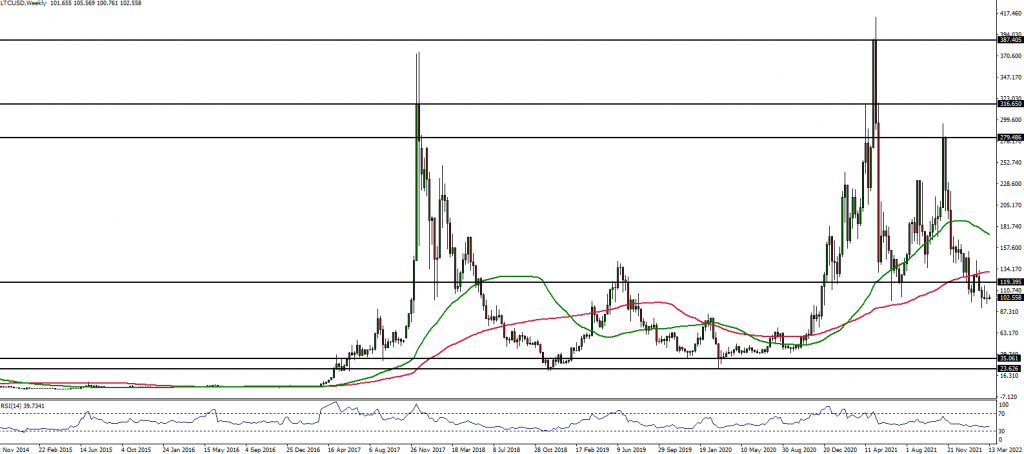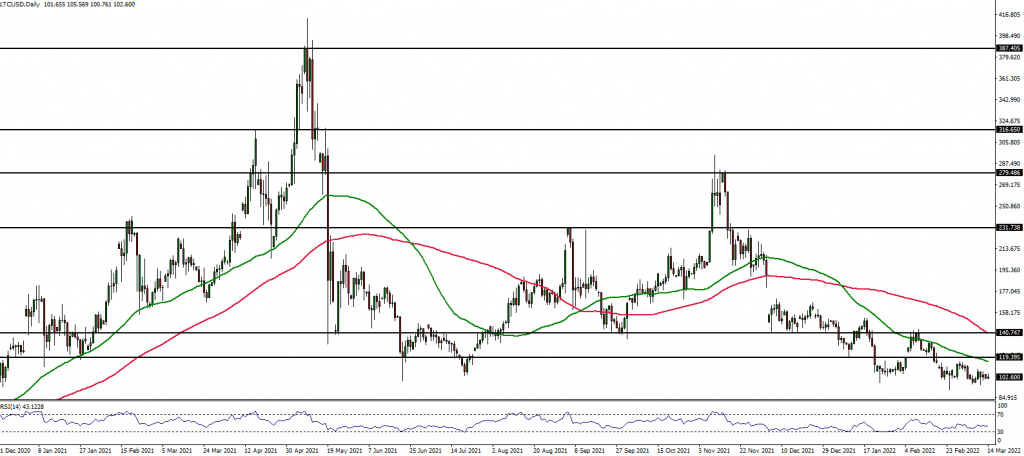 As suggested in our last analysis, LTCUSD has been moving sideways.
Litecoin continues to be indecisive and lack trend direction. The weekly moving averages have been crossing frequently and are moving sideways – confirming the market indecision.
The daily time-frame also shows indecisive price action – LTCUSD is looking choppy. Recent price action has been bearish though and the daily moving averages are currently bearish and steady, all suggesting a potential move lower.
Trading opportunities could exist around the daily and weekly moving averages and around any of the identified horizontal levels at 23.60, 35.00, 119.40, 140.75, 231.75, 280, 315 and 385.
Start trading today with Triumph's Forex MT4 trading platform – https://www.tfxi.com/
Hits: 56