Previous analysis… https://analysis.tfxi.com/2021/06/04/triumphfx-intraday-forex-analysis-1-hour-charts-june-4-2021/
AUDUSD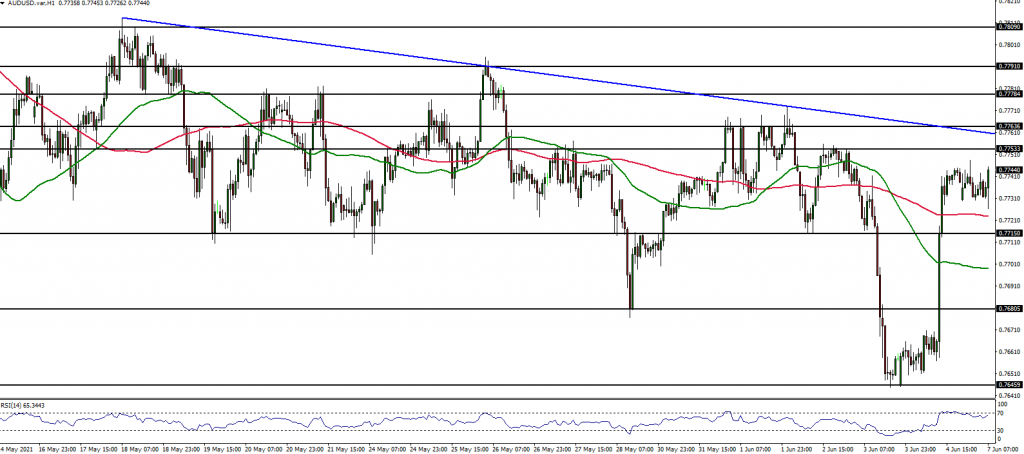 The AUDUSD has been bullish.
Price continues to be choppy but has formed a series of lower swing highs and lower swing lows – AUDUSD is in a slight decline. The moving averages are moving sideways – confirming the current choppiness. Price is indecisive and moving sideways on higher time-frames.
Selling opportunities could exist around the diagonal resistance area and around the horizontal resistance levels at 0.7755, 0.7765, 0.7780, 0.7790 and 0.7810. A bearish move may be rejected or reverse around the moving averages and around the horizontal support levels at 0.7715, 0.7680 and 0.7645.
The Reserve Bank of Australia (RBA) continue to keep the official interest rate at the record low of 0.10%. The rate is currently forecast to stay the same until 2024. Unemployment rates are expected to over coming months. An unemployment rate of 6% is expected for the end of 2021.
The Federal Reserve have stated that they will do everything they can to support the US economy and to help a robust recovery. The current rate is set at 0.25% (record lows). The US economy is bouncing back quicker than expected originally.
A US services PMI figure will be released at 1400 UTC today.
EURGBP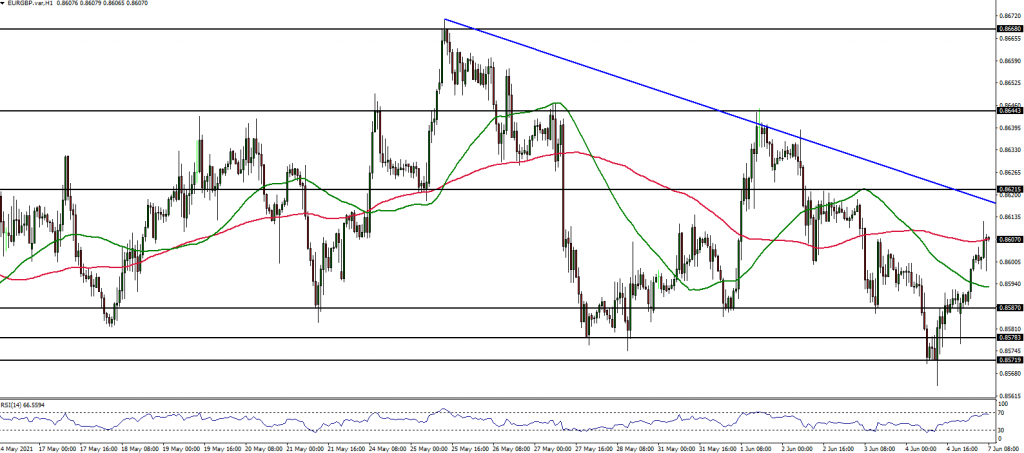 The EURGBP continues to be indecisive and lack trend direction. The moving averages confirm the market indecision – they have been crossing frequently.
Trading opportunities may exist around the moving averages, around the diagonal resistance area and around the horizontal levels at 0.8570, 0.8580, 0.8585, 0.8620, 0.8645 and 0.8670.
The European Central Bank (ECB) continues to keep the official rate at the record low of 0.00%. The ECB have hinted at providing more economic stimulus, if needed.
The Bank of England (BOE) continue to keep rates at the record low at 0.10%. Recent economic figures have been more positive than expected. With the rollout of vaccines and the ease of lockdowns on the horizon, the BOE expect a strong economic rebound during 2021.
There is no major scheduled news today that will directly impact this currency pair.
Start trading today with Triumph's Forex MT4 trading platform – https://www.tfxi.com/
Hits: 0