AUDUSD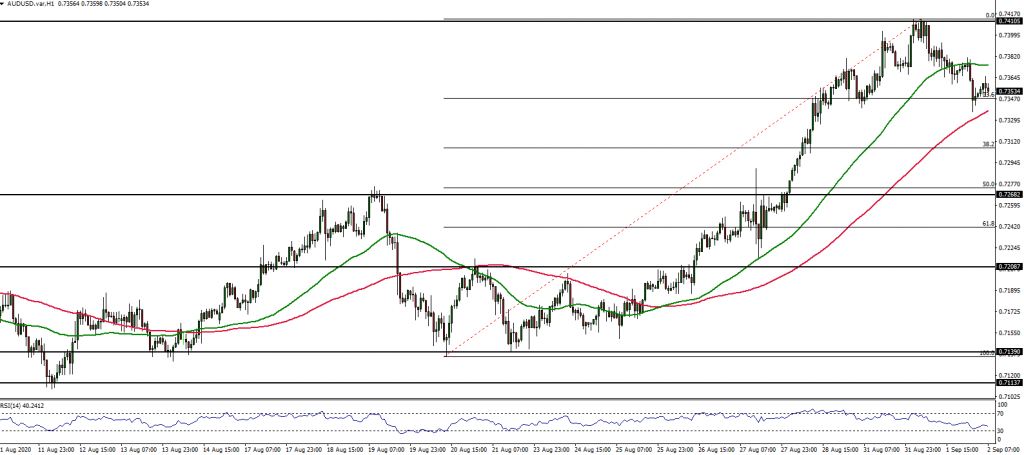 As suggested in yesterday's chart analysis, AUDUSD has found support around the longer-term moving average and 23.6% Fib level.
Price is up-trending and is currently in a retrace phase. The moving averages are bullish and steady, suggesting that the upside direction may continue.
Buying opportunities could exist around the longer-term moving averages, around any of the key Fib levels and around the previous horizontal resistance levels at 0.7270 and 0.7210. A bullish move may be rejected or reverse around the shorter-term moving average and around the recent swing high at 0.7410.
The Reserve Bank of Australia (RBA) have kept rates at 0.25% (a record low). Policymakers are now focused on economic recovery created by the COVID-19 crisis. The board believe they recovery will be both uneven and bumpy. Low rates and economic stimulus is likely to continue until unemployment levels and other economic indicators are more satisfactory.
The Federal Reserve have suggested that rates may remain low for the short-term future. Rates currently remain at the low of 0.25%. Inflation is around target and the US job market continues to be robust.
A US ADP non-farm employment change figure will be released at 1215 UTC today.
EURGBP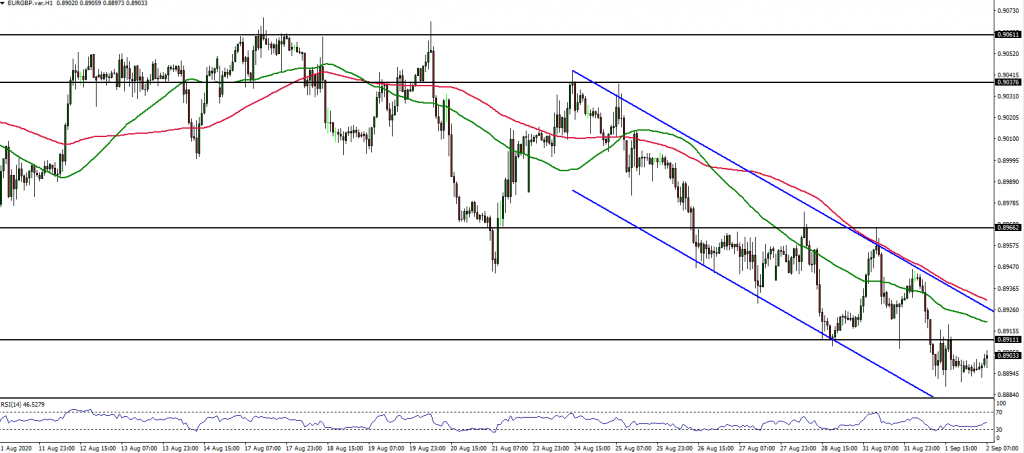 EURGBP has been bearish and has broken lower, as suggested in yesterday's chart analysis.
Price is clearly down-trending – EURGBP has formed a series of lower swing highs and lower swing lows. Price action has formed a bearish channel and price is moving within the channel. The moving averages are bearish and steady, signalling that the downside direction could continue.
Selling opportunities may exist around the bearish channel resistance area, around the dynamic resistance of the moving averages and around the horizontal levels at 0.8910 and 0.8965. A bearish move could find support around the bearish channel support area.
The European Central Bank (ECB) has recently become more optimistic about the Eurozone's economic future. Strong economic stimulus and low interest rates will need to remain to support growth and inflation though. The interest rate continues to be at the record low of 0.00%.
The Bank of England (BOE) has set the interest rate at a record low of 0.10%. Policymakers believe that the UK will take longer to recover from the COVID-19 economic crisis than first initially thought. They have warned about cutting rates below 0.00%, meaning that a negative rate is unlikely in the near future.
The Governor of the BOE will speak at 1300 UTC today.
Start trading today with Triumph's Forex MT4 trading platform – https://www.tfxi.com/
Hits: 1